EVERY DOOR DIRECT MAIL
by the U.S. Postal Service
Every Door Direct Mail (EDDM) is a service designed by the USPS to help small businesses market themselves to their local community. You don't need specific names or addresses; you just need to know the zip code of any neighborhoods you want to contact. It's an affordable way to expand a company's reach and to reach new customers for only 14.9¢/each.
Now the USPS takes EDDM to a more valuable level with Demographic Tools. You can map out a target area, use age, household income, and size data to select a delivery route, choose a mailing drop off date, and pay online, all from your computer. And, you can create your mailings up to 30 days before you plan to mail them.
This is a great service for clients who are looking for a local marketing campaign.
We offer Postcard sizes that meet EDDM specifications. When you want to place an order for EDDM, take a look at the "Size" dropdown menu. The 4-Color Offset Postcards that meet USPS requirements are clearly marked. Simply order the Postcards and take them to the neighborhood post office for mailing, or we can handle to entire process for an additional fee.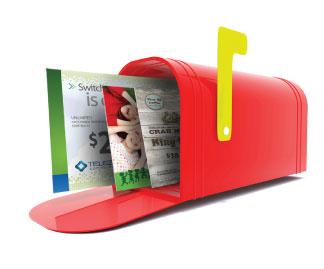 The USPS offers solutions for businesses of all sizes and marketing goals. Many smaller businesses prefer to market locally; they can use EDDM to target specific neighborhoods they may be familiar with. For example, a local pizza restaurant may target a 5 mile radius near college areas while a law firm targets downtown or areas with a lot of office buildings.
Getting started with EDDM for the first time is a bit complicated, so we highly recommend reading all the details and downloading the information that the USPS offers on their website. EDDM is a great option if you plan on sending mailings more than 4 times a year because once you get it set up and you are familiar with the process, it can save money. However, if you plan to send mailings out a couple times a year, it's likely a smarter option to use direct mail since we handle everything for you.
Not every post office participates in EDDM, so be sure to contact the post office you plan on using prior to ordering.
For more details about EDDM, click here to visit the USPS site.